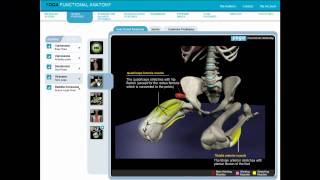 Yoga Functional Anatomy is a comprehensive and professional online course in the functional anatomy of yoga with an emphasis on diagnosing yoga-related posture problems. The software is updated constantly with professional material from the world of yoga and posture and creates a professional community for yoga teachers and all those who engage in movement.
The Cooperation
This program is the first of its type in the world, the result of a rare cooperative effort between Dr. Gill Solberg (a yoga teacher and expert in diagnosing and treating posture problems and limitations of the kinesthetic system), and Amit Gal Alon (a teacher of movement and world famous developer of computerized systems in movement and anatomy).
Yoga Anatomy, Kinesiology, and Posture
The software focuses on the anatomy and kinesiology of yoga postures and instills a deep understanding of the wisdom of ancient yoga – in the spirit of the modern world. The system focuses on the applicative side of adapting yoga to western civilization and also adapting the nature of the yoga practice to the posture patterns of the yoga student. In this way we highlight complex kinesiological aspects that till now have not been addressed clearly and in terms of their applications.
Teacher Advantage
All of the content is presented visually, in spectacular 3D, to help teachers deal with questions that arise during instruction such as: What does this position work on? What might be the source of the learner's difficulty? How can we deal with movement limitations during the yoga practice? Knowledge in these areas will enable teachers to work with confidence, from a well grounded understanding of body movement, which will help avoid causing harm as the result of an inappropriate yoga practice.
This is an amazing opportunity to grow as a teacher: expand your yoga knowledge in the comfort of your home or practice space
and accumulate credit towards your Continued Education Units (CEUs) with Yoga Alliance.
LEARN MORE & REGISTER
HERE